published on:
Thursday, 24 January 2019
Keen to find a new favourite bubbly but never see it on the tasting menu? See our list of top places to visit to get your bubbly fix.
Bubbly also makes for some of the best pairings and Villiera Wines has recently launched a brand new MCC and chocolate tasting. 4 Villiera MCC's are paired with 4 specially crafted chocolates by MySugar. Look forward to Domaine Grier Brut paired with Cashew Coconut & Strawberry in Milk chocolate, Villiera Monro Brut paired with Miso Caramel and Peanuts in Milk Chocolate.
Be sure to book in advance as the chocolates are crafted in small batches and you don't want to miss out on this tasting. More info here
Macaroon lovers here is one for you. Durbanville winery, Canto Wines has a MCC and Macaroon tasting featuring 4 MCC's paired with 4 macaroons. Their deli and picnics are also a treat so definitely worth a visit. More info here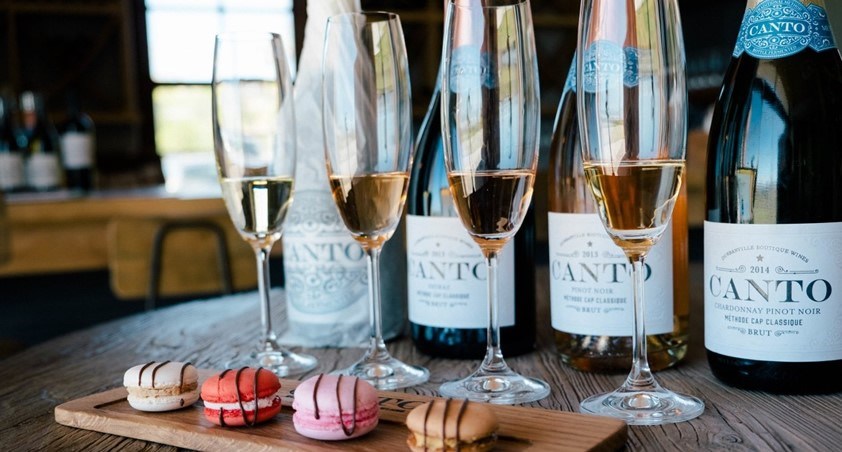 You can't think of South African bubbly and not think of Graham Beck. Their brand home in the Robertson Wine Valley offers some of the most exciting MCC tastings with various options to choose from. You can try the delightful Gorgeous Sparkling and Gorgeous Pinot Noir for free and then choose the tasting of your choice, ranging from their Classic tasting to a Vintage MCC tasting. The Robertson Wine Valley is worth the trip and Graham Beck should be your first stop. More info here
Any day that includes Simonsig MCC is a good day. You can try some of their award-winning wines and MCC's in their Estate Tasting, priced at R60 per person and includes any combination of 6 wines from their Cap Classique, Malan Family Selection, Cultivar Range or Dessert wines. More info here
Wine farms are often not too eager to open a bottle of bubbly for visitors to try. Crafting an MCC is hard work and nobody wants a good bottle to lose its bubbles and go to waste. Luckily, Stellenrust Wines have included their Sparkling Chenin Blanc, made in the Prosecco style, and Clement de Lure MCC available to try in their tastings. You can taste 5 wines from their Premium Range for R35 or 4 wines from their Reserve Range for R55. The Sparkling Chenin Blanc has been a real showstopper and reaped up awards in 2018 so be sure to give it a try and stock up on a few bottles.