It seems that weather conditions around the globe have had a negative effect on yield over the last year. The 2018 vintage in the Western Cape certainly promises to be one of the smallest on record. A worldwide shortage of wine looms and prices are already escalating which is bad news for wine lovers. On the bright side, better quality should make paying higher prices bearable.
To ease the Western Cape's water problem, we have ceased using Municipal water. We have started up our boreholes that have been kept in reserve for almost 30 years, but the water has to be treated to ensure potability. This was an expensive exercise, and to compensate we have dramatically reduced water use. Our next project will be to cover some of our dams saving 2 000 litres of water per ㎡.

The 2018 harvest is now in full swing, with the heady aromas of fermenting wine permeating through the cellar. Our experienced team rigorously sets about their work and they are complemented by the youthful energy and enthusiasm of Xander and Nathan, our young winemakers. There are new ideas and numerous plans for experiments, which all adds to the excitement of the vintage.

Awards
At the annual "Wine of the Month Club" awards ceremony, our Monro Brut 2011 was selected as first placed Cap Classique by their esteemed panel.

At Veritas we also did well with our Cap Classique, receiving a double gold for our Monro Brut 2011 and gold for our Tradition Brut.

The John Platter guide also endorsed the quality of our Cap Classique with 4½ stars for Monro Brut 2011 and Brut Natural 2013. We also received 4½ stars for "The Clan" and "Barrel fermented Chenin Blanc".

Game Drive Evenings
The busy holiday season is over, and we are planning another series of sunset game drive evenings. A few pleasant surprises will await you to challenge your taste buds.

Departure will commence at 17h30 from the Tasting Room on a comfortable open safari vehicle. Sip and savour on a sundowner and snacks, while contemplating a diverse population of antelope and a variety of birdlife. After this 2-hour sunset drive, our winemaker will welcome you on the terrace at the Tasting Room for a braai and wine tasting.

Dates: Thursday, 15th of February; Friday, 2nd of March; Wednesday, 14th of March
Arrival time: Guests to arrive at Villiera from 17h00
Departure time: 17h30
End time: 21h00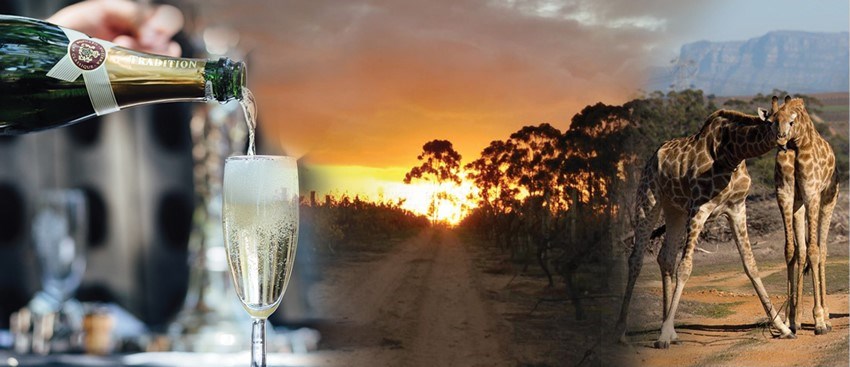 Price: R450pp (Includes 2-hour Game Drive, snacks, sundowner, informal tasting, braai & wine) | The menu will be limited and small, therefore it can't be altered.

* We regret no children allowed.

Bookings: Email us to make a booking.
Wine Club: If you have not yet joined our Wine Club, simply email club@villiera.com to receive your membership form. For further information and benefits, contact Hannelie on +27.21 865 2002 or follow the WINE CLUB link on www.villiera.com.
Our online shop is now available to facilitate ordering Villiera wine for Club members. You can register as a member online on www.villierashop.com.
Queries & Private Wine Tastings
Gauteng: Karen Green | Cell: +27.83 2974215 | Email: karen@imagine.co.za | Western Capetern Cape: Villiera Wines | +27.21 865 2002 / 3 | Email: wine@villiera.com.

View our PRICE LIST (pdf format) | Join our WINE CLUB for loyalty benefits

Read complete newsletter online...